Self storage is so useful in so many different ways; when we are moving house, relocating to a new area or even a new country; for storing heirlooms that we want to keep but don't necessarily want in our own home. For businesses who need to store seasonal stock or equipment and even for start-up companies as an alternative to more expensive office space or warehouse space. But to get the most benefit from a self-storage unit take a look at these essential self storage tips and tricks. That way you can avoid breakages, damage due to damp or condensation, or even an infestation of bugs or vermin. You can then be confident that your precious belongings, whatever they are, will be protected, safe and secure; and that you won't be paying too much money for space you don't need.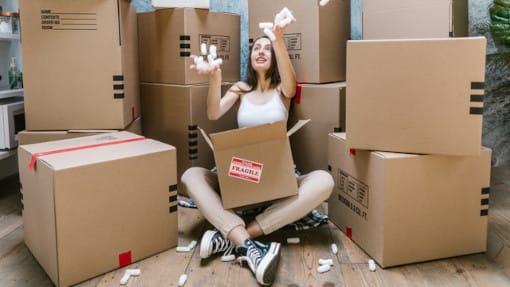 Keep Out Pests
We all know rodents can get into self storage units if not protected adequately but also spiders and moths can too and they can all cause serious damage to your belongings. Here's the best way to keep pests out of your storage unit:
Set some traps
Put tumble dryer sheets inside the unit because the smell deters many pests.
Tape dust sheets to the walls and to the floor before placing your stuff into the unit – these are heavy duty and another deterrent to pests.
Reduce the Humidity
Fabrics, wooden furniture, paintings and rugs can all be destroyed by moisture so if you are storing any of these items then you need to keep the moisture out of your storage unit as follows:
Try not to place items directly on the floor of the unit – if you can, store all your precious items raised up off the floor using something like wooden pallets to help the air circulate all around.
To absorb moisture that is naturally present in the air, use an old-fashioned remedy by placing pans of  charcoal dotted around the unit.
Make sure everything is completely dry before storing it – especially check household appliances like the dishwasher and the washing machine. Wipe out the inside and the hoses before storing them.
Never use plastic sheeting to cover items – it might keep the dust off but condensation can form underneath if there are large variations in temperature inside the unit, and this is very likely for long-term storage throughout all the seasons of the year..
Avoid Breakages
Take extra care when packing your items, transporting them to the self storage facility and when loading the self storage unit if you want to avoid damage to your items (and why wouldn't you?)
Wrap everything carefully and don't skimp on the wrapping material – it's obvious really.
Make sure all space within a packing box is filled – pad out with newspaper, bubble wrap, even cushions or towels to prevent items moving around inside the box during lifting, transportation and loading.
Remind yourself which boxes contain especially fragile items by labelling them clearly and always stacking them on top.
Place mattresses, sofas and armchairs flat for long term storage to avoid all the filling shifting to one end.