I've never actually lived in a new-build home but I have visited plenty – either when visiting friends and family or just when I have been curious and taken a peek at the show homes on one of the many new developments springing up in our already crowded part of the South East. I don't need statistics to tell me that new homes are getting smaller and smaller (but there are stats that show this) because you can simply feel it in the new homes – even show homes that are cleverly dressed by skilled interior designers using furniture that isn't full size. You just know that that small wardrobe and chest of drawers will never be enough storage space for anyone actually living full time in the house. And the few kitchen cupboards will simply not be able to store a family's needs.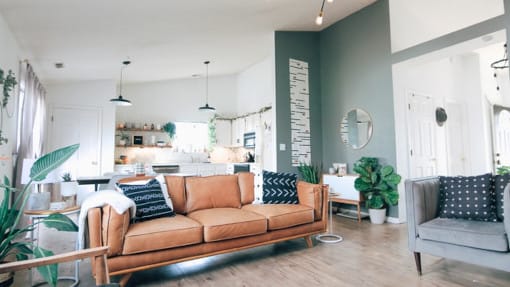 Whenever I see kitchens in new homes I wonder where the people living there put all their stuff – most of the base units are actually housing the fridge, washing machine and dishwasher and at least one of the wall units will be housing the boiler. Add to that the fact that the designers are cutting back on kitchen units so they can squeeze a table into an already small kitchen and the storage issue becomes even worse. Older, period houses may not have had overly large kitchens but they did tend to have spaces such as a traditional larder which, with it's floor to ceiling shelves provides a huge amount of storage. They also had spacious under stairs cupboards for storing brooms, hoover, ironing boards and other household paraphernalia that need a home. That under stairs space in a new build is more likely to have been used for a cloakroom.
Actually I do new builds a disservice because some of the high-end developers are creating huge, amazing spaces so when I say new-build developer I am thing of the mass-produced new builds – you know those big names we have all heard of. Rather than the smaller, more niche luxury new home builders.
But back to my issue with storage – if a home does not have enough storage then it will be almost impossible to keep the home from becoming cluttered. I'm sure there are some minimalists out there who can live with just a few well-chosen items but most of us just aren't like that. I think that at heart most of us are hoarders. Combine that intrinsic nature with a lack of storage and you end up with homes that are cluttered. And no matter how much good advice there is available online about how to declutter and the benefits of decluttering many of us find it impossible to create a clutter-free home – and this comes down to a lack of storage.
Many homes are not technically cluttered because all the items in them are used and needed, but there is not enough space for everyday family living.
Finding more storage space where you thought there was none
So if you already live in a home without enough storage what can you do about it? The chances are that the room sizes are such that they can't accommodate any more shelves or cupboards – if your rooms are large enough for more storage units then get yourself down to the shops and buy more – you don't need much money for a few shelving units or cupboards – check out charity shops and secondhand shops if you are on a tight budget – (go – what are you waiting for?).
But what if there simply isn't the floor space or wall space?
There is actually a lot of under-utilised space in even the smallest of homes if we just look up. Why not think about running shelves all around a room about 30cm below the ceiling. This is dead space that could easily be used to store any manner of things. If you are worried it won't look great then invest in some pretty baskets or storage boxes to go on the shelves. Maybe even make the storage boxes your self or at least cover them. If the room is wallpapered – even better – cover the storage boxes in left over wallpaper and they will blend into the background. Paint the shelves to match the rest of the woodwork in the room.
Baskets or storage boxes on high shelves can be used to store anything that is not used on a daily basis. For instance, out of season clothes or seasonal sports equipment or Christmas decorations can all be hidden away in attractive storage boxes.  Books, ornaments, DVDs etc. can be displayed openly. Even if you already have shelving units for these things in your home you can make the space seem less cluttered by using this one simple trick.
The same idea can be used for storage boxes or baskets on top of your kitchen wall units – there is also plenty of dead space up there too. The trick is to make the storage attractive and make it so that it blends in with the décor of the room so the eye is not automatically drawn to the high level shelves and spaces. The space on top of kitchen wall units in an average sized kitchen could be the equivalent of another couple of kitchen units or maybe more so make use of it.
Another way to find more space is to buy beds that either have storage drawers already built in (if it is a divan) or has the space for under-bed storage boxes if it is a wooden or metal framed bed. These are great places to store bed linen, spare pillows, spare duvets and towels
And if you have free-standing wardrobes then don't forget to also make use of the space on top with storage boxes for your out of season clothes.
Even the smallest of homes can benefit from these storage tips which will add storage in all the dead space we have around our homes which so few of use utilize.