Home offices are important for anyone trying to earn money from home. Here we look at 5 easy tricks that ensure there is maximum storing space in your home office.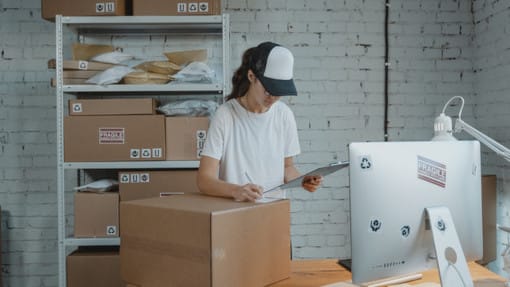 Last year a popular newspaper reported that 1.5 million people in the UK now work from home. There are any number of jobs that are now easily possible to do at home from a web designer, seo consultant, online marketing, virtual PA, voiceover artist. Anything which requires just a good laptop and fast internet connection.
With that in mind, it is no surprise that a home office is now something a lot of people need when running a small business. There are many things to think about, including the decor of the room, the practicality of it, the equipment, the ergonomics. In a place you make your money, you should feel comfortable and happy. It should promote productivity.
The problem is, with many of us having to turn to the smallest of spaces to turn into a home office, or possibly even having a multi-use room which needs to also have another use when you aren't working, storage is at an absolute premium.
Perhaps you find your home office is more of a bombsite than a professional space for your home-based business, or you feel like a hamster you're surrounded by that much shredded paper and crinkled up reports. Whatever your reason for being in dire need of some order, and storage, these top tips to add storage space to your office will help:
Declutter
This sounds really obvious, but the home office is just as much of a magnet for clutter as anywhere else. Get a box or a bin bag (or both) take a morning, and declutter that office. Chuck away any dead plants (not very inspiring), get rid of any paperwork you do not need (that is not sensitive), chuck any items that do not work (maybe your old computer is in there, and it is broken, or you have various broken staplers that never left the desk).
Declutter the life out of that office until you are left with the bare essentials.
Clean
You may not think this is necessary, but the cleaner your office is, the more likely you are to find additional storage space. This is because when we give our office a basic clean we might hoover the floor quickly, give the desk a wipe and consider it done. If you go deep, and clean all the nooks and crannies, you may find that certain areas are simply full of files you no longer use, you might move something somewhere and realise if you kept it like that permanently, you would have more room to move around. Cleaning cleans the mind as well as the physical.
Get Fresh Eyes On The Job
Often, we look at something so much we can only see it a certain way. Get a friend or family member to look at your home office and make suggestions about storage. They might notice a corner you didn't think could take a cabinet, they might suggest a clever storage idea for the desk – fresh eyes bring fresh ideas.
Get Clever With Furniture
Does your desk really need to be that big? Could you have a desk with more drawers and storage? Is there room for drawers under the television? Could you use a laptop instead of a computer and downsize your desk? The furniture you have should be very carefully selected. Visit some furniture shops, especially ones well known for clever storage, and look at what you could use in your room. Sometimes we may have had furniture such a long time we didn't realise how much better the newer furniture on the market could be.
Go Paperless
Paper really is unnecessary in today's offices, and many businesses are managing to go paperless now. Even if you shred, paper still takes up a lot of space, along with printers and filing cabinets – there's hardly any room left for you. Consider making a plan to go paperless in a certain amount of time. Start to speak to clients about working online only, look into cyber security, consider cheap self storage for paperwork you aren't yet able to destroy, or even cheap self storage for paperwork you don't want to get rid of yet, and start to bring your company into the 21st century. It could free up a ton of space for your home office.
Hopefully these ideas have helped inspire you to work with your home office space more. Remember, there is always a way to make a space work for you, you just have to take your time, think creatively and be willing to put a little effort in.