When you don't have time to have a clearout you may have a lot of clutter you don't know what to do with. Here we look at short term solutions for concealing clutter.
The answer to most clutter problems is to get rid of it, but sometimes we can't. Or perhaps we have a lot of items that aren't clutter, but they don't have a 'home' within the home. In both instances, there are lots of ways to conceal pesky items that make the room look untidy. This may seem counterproductive, but sometimes clutter isn't clutter, it is just something we don't know how to display or make look pretty yet. Sometimes, we just need to make do until we can have a clear out.
Here are some top tips to help you conceal clutter: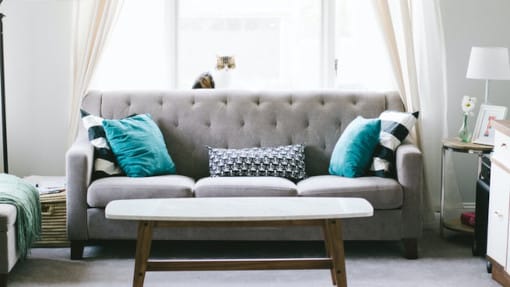 Always Fully Cover
One of the worst things you can do, is partially conceal something you are trying to hide. Perhaps you have a TV on top of a TV stand that has lots of clutter piled under it. A cool throw will conceal the underneath for now, but only if it fits in full. If it partially exposes the underneath, it will look really messy.
Buy Clever Furniture
A foot stool with a concealed storage box inside, a soft with compartment drawers underneath, a bed with storage boxes underneath – you get our drift. Buy clever furniture even if you don't think you need the storage because the chances are, you will need it at some point.
Replace Furniture That Is In Fact Clutter
You may find some of your clutter displaced, when in fact it could easily go in a set of drawers, except you don't have the set of drawers because you have an old poof in the space instead that serves absolutely no purpose. If you got rid of the poof however, you could fit a set of drawers in. Look at all your furniture and get rid of it if it does not serve a purpose.
Look For Storage Where You Hadn't Thought Of Putting It Before
Maybe there is room next to your sofa for a cool fruit crate that could store magazines, maybe you have room for some shelves that could house some ornaments and books, maybe there is space on the ceiling for storing sports equipment (which looks very cool at the same time). Look for storage space in places you had previously discounted.
Tidy It Up
Sometimes it is all about how we display the clutter. A group of vases you don't know what to do with, might look wonderful with some bamboo and greenery sticking out of them, they might look cool lined up on top of kitchen cupboards, or maybe filled with marbles (if they are glass). A pile of magazines could look like a pile of rubbish, but if you fan them out on the table, or put them in a wicker basket nicely, they suddenly look very inviting.
In The Long Run
Clearly, in the long run you will have to think about what to do with having too many items, as there's only so much a bit of jazzing up can do.
Declutter
Decluttering is a really good experience for your home and for your soul. Chuck some clutter, give some away, sell some – just get it out of your home. You will feel better for it.
Self storage
Perhaps you are saving for a bigger home where you can spread out all your beloved bits and pieces, in which case, why not get some self storage. You get to enjoy the space in your current home, all whilst paying a minimal amount to look after the items for your new home in secure, safe cheap self storage.