Moving in the 105-degree Texas heat can be tough but relocating when it's 25 below in North Dakota can also be a charming experience. Cold weather moves can be daunting, so let's look at some options for getting your stuff from here to there in the dead of winter.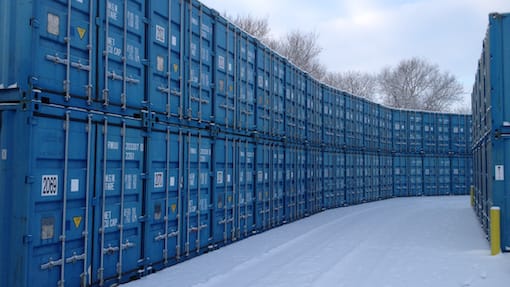 Wear Gloves
This may seem like a no brainer, but items are more rigid in the colder weather and more apt to cause injury in a number of ways. Sharp metal and plastic edges—while dangerous in the summer—can easily cut your inelastic cold winter skin. Somehow, a finger jammed between the doorway and the fridge you are moving feels worse at 10 below than at 85 degrees. Stiff hands can also contribute to limited flexibility that can make accidents more prevalent.
Stuff Freezes Fast
Veterans of the Midwest, perhaps Bloomington apartment dwellers, will tell you that the feeling of 25 below with a 30 mile per hour wind is unique, but even worse is the sudden realization that as the temperature moves upward for 25 below to zero it actually feels significantly warmer; 15 can feel like spring is on the way and at 35 you have to take off your coat!
The point here is that in frigid temperatures, everything freezes fast. You already know that you have to protect your pets, but if you pack kitchen items like canned goods and jars of spaghetti sauce, you may find that after a few hours unprotected in the truck, these items freeze and burst. Therefore, make sure that you insulate everything well. When travelling across the country from a warm area to a cold one, keep in mind that the weather is not necessarily your friend.
Where to Park?
If you rented your moving truck, realize that everyone is going to know that you are an amateur driving a truck full of valuable household goods, and that simple lock on the liftgate may not be enough to keep thieves away. Seasoned movers actually suggest that if possible, you drive all night and sleep all day. That way, your truck will only be parked in daylight. In addition, make sure that when parking you back your truck up to a wall so unauthorized entrance through the back is impossible.
Storage
If you need to temporarily store your stuff in the winter for a few months before you move, this one is a no-brainer: Make sure that you rent a climate-controlled space. These areas will be inside a secure building, and you won't have to worry about freezing temperatures or flooding precipitation that could seep in and damage your stuff.
One caveat to consider, however is security. Thieves can compromise even a modern and clean-looking storage facility, and your only recourse may be to file a difficult claim with your homeowners' insurance company. Be sure to carefully vet any storage facility and ask for a record of police contacts and break-ins. Hopefully, there will be no issues, but if you discover some problems, get assurances that security is now top-notch.
Moving is rarely fun, and winter presents its own set of challenges. Plan ahead, be careful, and keep everything warm. If you do that, you'll minimize some possible problems.
Whether you're buying your first home on contract for deed or moving from apartment to apartment, you need to prepare for the worst!